He's too old, too small, too many miles, he's had a stroke! These are the criticisms from Sean Santella's detractors. Their words have been ringing in his cauliflowered ears since he fell short against Joseph Morales on Dana White's "Looking For a Fight". Santella has been on the 1 yard line of the UFC for years, narrowly missing out on his shot at the big show time and again. Like a modern day Sisyphus, every time he seemed to reach the summit his dream came crashing down. Years ago the UFC called him up on late notice, but it was just days after having major knee surgery. He seemed a shoe-in for the flyweight Ultimate Fighter, but despite holding multiple belts over the years he was not a current champion and was therefore passed over. He stepped up to fight Wilson Reis after champ Demetrious Johnson pulled out, but the UFC was too scared by a a stroke he suffered 8 years and 20 fights ago. He scored a 1st round submission with Dana White sitting cage side, but his victory flew under the radar. Against Morales Santella floored him immediately and put him in a myriad of submissions, victory seemed certain, but he got caught and had to watch as Morales won his debut UFC fight. He has been told point blank from the most powerful men in the UFC they aren't signing him, with the implication being he should just stop trying.
The MMA world rarely operates in absolutes. When asked when women would fight in the UFC Dana White once famously replied, "Never". Dana White claimed Conor McGregor would not box Floyd Mayweather. Fighters such as Tito Ortiz, Josh Barnett, and BJ Penn have all been told they'd never fight in the UFC again only to return once cooler heads prevailed. Sean Santella has decided he is going to keep fighting and continue beating all the top prospects until the UFC has no choice but to sign him.
Santella's first fight back he made it clear he only wanted to fight battle tested champions. He took on Lawrence Diguilio, a World Series of Fighting veteran and the reigning V3 flyweight champion with 29 fights on his resume. Diguilo was bigger, younger, the #1 ranked fighter in the midwest and had won 8 of his last 10 bouts. Santella was coming off a loss, it was the first time he'd been finished in a decade of fighting. The established logic is to take a "tune up fight". An easy bout where victory is a foregone conclusion allowing the fighter to build back their confidence and return to form without risking another injury or defeat. Diguilio was no tune up. Santella was traveling into enemy territory against an established veteran to prove to himself and the MMA world that he was better than his last performance and he deserved his spot among the best in the world.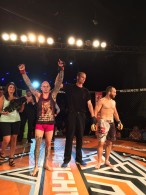 The fight was an absolute mauling. In less than 2 minutes Santella left Diguilio face down and unconscious. This fight was supposed to be the final nail in the coffin for Santella's career. Instead it was the first highlight reel victory on his comeback. Santella had a new belt around his waist and a new lease on his MMA career. He set his sights on another title, the PA Cage Fight strap. In his way was Nate Williams, a Bellator veteran with 26 wins on his resume. Williams was a ground specialist who had just rattled off 4 straight submission victories. Santella, who has always prided himself on having the best jiu-jitsu at 125 pounds, was eager for the challenge. In many ways this bout was even more one sided than Santella's last. After flooring Williams three times with strikes Santella secured the submission in the 3rd round dominating every exchange from bell to bell. With this bout Santella made a statement that he wasn't just looking to lead the pack of contenders, but to leave them in the dust.
The next chapter in Santella's comeback would be returning to the CFFC cage. CFFC was the organization where he made a name for himself. It has also become a proving ground for the UFC. Aljamain Sterling, Mickey Gall, Doug Gordon, Paul Felder and many other UFC veterans got called up after getting their hands raised in the CFFC cage. In fact, no one has ever won as many fights in CFFC as Santella without going to the UFC. CFFC was also the site of Santella's last defeat. Earning a victory and having the title back around his waist would be the litmus test he needed to show that he was back on top. The UFC kept him off the Ultimate Fighter because he was not a current champion, a victory here would be his 3rd title in as many fights.
The opponent was Kevin Gray, who was fresh off Dana White's Contender Series and his last 2 wins were against Bellator veterans. Santella had set a high standard for himself in this fight. He not only wanted to win, but he wanted to finish Gray. Moreover he wanted to show himself to be in a league of his own. Someone trapped in the local scene who clearly didn't belong there. Mission accomplished. Despite working patiently and methodically Santella disposed of Gray in 2 and 1/2 minutes. He left the cage with his hand raised, a new title around his waist, and not a scratch on him. Chants of "U-F-C" erupted throughout the arena as his hand was raised in victory.
Post fight Santella credited his rigorous training as the secret ingredient in his path to success. Frankie Edgar, Jim Miller, Marlon Maraes and a host of other ufc champions, contenders, and record holders are who Santella counts himself among on a daily basis. After swimming with sharks in the deep end of the ocean local champions are little more than guppies by comparison. Now the only question is what's next? Will the UFC decide that after 20 victories, half a dozen title belts, and being ranked #1 in every region in which he fights that Santella can finally be granted a shot at the big time? Or will he be forced to follow the path of Ben Askren? Collecting victory after victory, but never being given his shot against the best in the world.
Mixed martial arts is a meritocracy. It may take some more time than others, but eventually everyone will rise and fall based on their abilities. Keep winning and they can't deny you is the prevailing logic that is passed on to aspiring champions trapped in the seeming purgatory of the local MMA scene.  At this point, keeping Sean Santella out of the UFC is a punishment. However, it is unclear who it is worse for – Santella or his unfortunate opponents 1 by 1 being sent to their slaughter. UFC or not, Santella will continue taking on all comers.