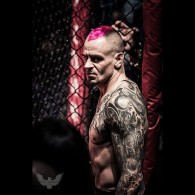 Anyone. Any time. Any place. It is a credo that many fighters espouse, but few are willing to accept the consequences of the edict.  One fighter who has embraced taking on all comers is Sean "Shorty Rock" Santella.  During Sean's MMA career, easy street has been the path less traveled by.  During his very first day of training he broke his arm, but in typical form he left undeterred.
Sean was committed to being a fighter and he stepped into his first amateur fight confident that he could use MMA as a way to get ahead.  Sean grew up with a single mother in poverty, a troublemaker who never finished high school and seemed to be speeding down a road toward failure.  MMA was his clean slate, his chance at redemption and he jumped at the opportunity with unrivaled enthusiasm. 
Sean would lose his first amateur fight.  His investment in his MMA dream had yielded a payout of a broken arm and a heartbreaking defeat.  0-1 is the most common record in mixed martial arts competition.  Aspiring combatants, expecting to be the hammer, play the role of the nail and find a new hobby.  However, it would take more than that to deter Sean.  In a pattern that would become all too familiar he took time off, regrouped and came back strong.  In 2008 Sean rattled off 4 consecutive wins including an amateur title and a victory over future UFC fighter Louis Gaudinot.  Sean proved he was ready to step up and in his pro debut informed the promoter he would take on anyone.
Young fighters typically select "safe fights" early in their careers, match-ups in which they have an obvious advantage and will allow them to play to their strengths and cruise to victory.  Sean wasn't interested in that path.  He made his pro debut against Nick Pace.  Pace came from one of the premier schools and boasted a perfect 6-0 record with 5 consecutive finishes.  He was someone no one wanted to face.  Sean fought hard and found himself on the wrong end of a judges decision.  Once again he was 0-1.
Loss wasn't new for Sean, but what happened next was.  After a hard training session he was feeling weak and light headed.  The feeling persisted and Sean found himself in the hospital where doctors told him he had just suffered a stroke.  No one could tell Sean why at 24 years old in his physical prime he had suffered an ailment typically reserved for people in their 70's.  Sean's back was against the wall.  He had just lost his pro debut and suffered a health scare that would send even the toughest of characters into a panic.  Sean did what he always did when things didn't go his way, he worked hard and kept on fighting.
Sean kept his stroke a secret and after taking a 7 month hiatus he found himself back in the cage taking the fights others ran from.  Sean rattled off 5 wins in 2009 finishing the year undefeated, ending all but one fight inside the first round.  Sean began to develop a reputation with promoters as someone who w
ould take on all challengers.  At one point, while cornering a friend, Sean took a fight out of the crowd when a fighter had his opponent no show. Despite having to move up in weight and knowing literally nothing about his opponent, Sean drove to the nearest sporting goods store, bought a cup and mouthpiece and won by submission.  He even went on to earn a submission victory over the man who defeated him in his amateur debut.  Sean's determination had finally begun to pay off.  He wasn't going to be known as the dropout who never amounted to anything, he was the fighter bound for greatness.
Things are never that easy for Sean though.  His winning streak came to an end following a back and forth battle with crafty veteran Josh Rave.  Following the fight the New Jersey athletic commission got wind of Sean's prior stroke an placed him on indefinite suspension.  Sean went from fighting every month to sitting on his hands not knowing if he'd ever be allowed to fight again.  The problem was that no doctor could answer the obvious question – why did Sean have a stroke in the first place?  Sean refused to go quietly though, petitioning the commission he underwent a seemingly never ending battery of medical examinations poking and prodding every conceivable possibility.  Finally, after 6 months of uncertainty, Sean was granted a license to fight. 
Sean let every promoter know he was back in business and ready to take on the toughest fighters in the region.  Top prospects, Strikeforce & Bellator veterans, Jiu-Jitsu black belts and NCAA wrestling champions all quickly earned a notch in the loss column when they stood across from Sean Santella.  In 9 fights his lone defeat came at the hands of still undefeated UFC star Aljamain Sterling.  Along the way Sean had won titles in both Ring of Combat and CFFC the region's top MMA promotions.
Sean was set to face feared flyweight Zack Makovsky.  It was no secret that the winner of this fight would likely be called up to the UFC.  Sean's goal was finally within his grasp, his shot at the big time.  Then, while rolling in jiu-jitsu class, Sean heard a loud pop.  He tried to ignore it, but he knew something wasn't right.  He hobbled into his doctor's office and was given the bad news.  He had completely torn his LCL, his fight was off and he would require reconstructive surgery.  Sean would have to sit and watch from his couch as Makovsky was signed by the UFC and began collecting victories and turning heads.  Adding salt to the wound, unaware of his surgery, the UFC reached out to Shorty and offered him a last minute replacement spot on a card when a fighter dropped out – right place, wrong time. 
It would be an entire year before Sean would be able to return to competition.  He would fight Nick Honstein in his return bout.  Maybe it was the ring rust or perhaps the pressure to make up for missed opportunities, but Sean was not himself.  He was a step behind Nick the whole fight.  Despite locking up submission after submission Nick would escape by the skin of his teeth and land shots.  Shorty would lose his title and suffer his first loss in 2 and ½ years.  Sean wanted to bounce back quickly, but fighters would either outright refuse to face him or days prior to the bout would claim they were unable to make weight.  After 9 fights fell through, Sean signed to fight Jimmy Grant.  Grant came in over weight.  Sean and his team had decided long ago that they would not fight anyone who missed weight.  However, Sean felt pressured considering opponents dropping out had kept him out of the cage for 10 months.  Grant would go into the fight, use his size to take Sean down and then defend offering little to no offense.  Sean actively pursued submissions the entire bout, but his opponent was awarded the split decision victory.  Grant would miss weight again for his next fight, proving that he is in fact a bantamweight who has simply been fighting flyweights for his own advantage.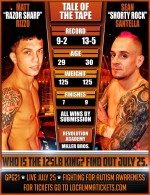 Sean now had his back up against the wall.  He had consecutive losses for the first time in his career and finding a fight had never been harder.  Rather than allow himself to be discouraged Sean stayed in the gym.  He worked to improve his wrestling to ensure a lay and pray loss would never again be marked on his record.  He also let promoters know he was ready to step in against the toughest opponent they could find in the northeast.  Finally promoters gave him a fight against Matt Rizzo.  Rizzo was riding a 3 fight winning streak and more importantly he had finished Jimmy Grant.  This was Sean's chance to jump right back in the rankings against an opponent no one wanted to face.  Rizzo was a ground specialist and it was clear whoever won this fight would be recognized as the most dangerous jiu-jitsu fighter in the region. 
The bout was billed as two of the top flyweights outside the UFC battling to see who was more deserving of a shot at the big time.  The fight began with Rizzo pressing Sean against the fence and looking to smother him and take him down.  Sean countered every attempt and landed
big shots that staggered Rizzo.  Eventually Sean timed a takedown of his own and immediately advanced to the back where he flattened Rizzo out and began landing heavy blows.  Rizzo was able to make it to the end of the round, but the tide was clearly in Sean's favor.  In round 2 Sean once again brought the fight to the ground and advanced to half guard.  Sean threw a back elbow and Rizzo's corner protested.  The referee stopped the action deeming that the blow struck the back of Rizzo's head.  Rizzo was unable to continue and the bout was ruled a no contest.  Whether the blow was legal or not depends on your definition of "back of the head", but as the replay showed on the projector screen the court of public opinion ruled in Sean's favor. 
Sean had fought the perfect fight in a showcase bout against a top ranked opponent, but he would not earn the victory that would have surely catapulted him to the front of the flyweight line.  The path was clear; rematch Rizzo and get that victory back.  Ring of Combat 53 would be the venue and the bout would be for the flyweight title.  To raise the stakes even higher, UFC president Dana White would be in attendance.  It seemed like the stars had finally aligned for Sean, nothing was going to stop him now.  However, things are never that easy for Sean Santella.  Just when things seemed to be at their best a setback is always waiting in the wings.  Halfway through the fight camp we received word that Rizzo pulled out of the fight.  The promoter didn't think anyone would be willing to step up against Sean considering his track record.  Sean once again faced an uncertain future at a pivotal juncture in his career.  Staying the path paid off though.  Ring of Combat found a worthy adversary in the form of Jay Pressley.  Jay was undefeated at flyweight and was being touted as the next big thing out of team Roufusport, the same camp that produced UFC champion Anthony Pettis.
In training Sean was looking unstoppable.  After his last fight we knew we couldn't leave things to the judges, we had to finish the fight and leave no doubt that Sean wasn't simply the better fighter, but that he was leagues above the opposition – this was Sean's now or never fight.  No injuries, no ring rust, no weigh-in problems, or health issues, he was going to show the UFC what Sean Santella was capable of when firing on all cylinders. 
The fight began and Sean fired off a series of leg kicks before charging forward and putting Pressley on his back.  Pressely was touted as a skilled wrestler, but Sean had no trouble keeping him down.  Pressely knew his only chance was to get to his feet.  He turned his back in order to stand and in the blink of an eye Sean had a fully locked body triangle.  Seconds later he slapped on the rear naked choke and earned the submission victory.  His celebratory breakdancing routine was nearly as long as the fight.  If Sean's pink hair didn't get Dana White's attention his grappling certainly did.  The chants of "U-F-C" filled the arena as Sean's hand was raised in victory. 
For Sean's career to continue he needs the UFC, but in many respects the UFC needs him too.  The flyweight division has no compelling fighters, no strong story line, no characters that inspire the public.  Sean has that story that makes people sit up and take notice.  He was the kid who was supposed to end up dead of in jail.  He wasn't supposed to make it in the sport.  He should have quit when he broke his arm, when he lost his first fight, when he had a stroke, when he tore his knee.  His story is one of perseverance and triumph in the face of adversity.  His fighting style is a metaphor for how he lives his life, guns blazing and full throttle.  Dana White is famous for asking the question, "Do you want to be a fighter"?  After 20 professional bouts Sean Santella has shown he'll take on all comers.