There are few forces in this world stronger than the power of belief.  Unwavering steadfast conviction is perhaps the most crucial ingredient in the recipe of success. According to the law of attraction, hoping for triumph is not enough; one must adopt victory as a foregone conclusion and act as if their dreams have already come to fruition.  Andy Main has embraced this philosophy.  The object of his desire is one of the most historically relevant titles in all of mixed martial arts – The King of Pancrase.  The background of Andy's phone is a photo shopped a picture of the infamous title with his name and the year 2015 strewn across the center, a daily reminder that he is the rightful heir to the throne.Although his next fight was not for the title, a stellar performance would place him at the front of the line.
Andy's journey towards this title of mixed martial arts nobility would not go unchallenged.  Standing in his way was Tamura, a well traveled veteran who has worn the Shooto crown and even submitted the great Rumina Sato. Tamura's fighting style mimicked my own with his affinity for the rubber guard and straight forward style.  The familiarity of the style afforded us a clear road map towards victory.  However, getting a win in and of itself would not be satisfying.  Andy was on the hunt for a higher level performance, a fight that would showcase his true capabilities.  In a way this is the dragon that every fighter is chasing, the opportunity to not only be a winner, but an artist.  Andy's recent fights had left a bad taste in his mouth and thrown his trajectory into a sort of purgatory.  A majority draw followed by a controversial split decision defeat would not be erased by a pedestrian performance.  This fight had to be spectacular if he was going to ascend to the heights of his lofty expectations. 
There is no such thing as a perfect fight camp.  However, the 6 weeks prior to Pancrase 262 were about as close to flawless as one can ever hope to achieve.  I wasn't the only one who noticed, every sparring partner was keenly aware that Andy had become a higher breed of fighter.  Half way through camp Andy alerted me that we would have a familiar face joining us on our third journey to the land of the rising sun – Jonathan Brookins.  Andy of course knew Brookins through their time together on season 12 of The Ultimate Fighter.  Over the years Andy would often remark on how strong an impression Brookins had made on him and how he hoped that one day their paths would cross.  Knowing Andy to be a good judge of character I was excited for the reunion.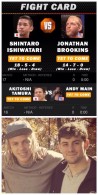 At this point Tokyo had become familiar. Everything was accounted for from the Jet lag and miniature hotel rooms to the silent crowd and futuristic toilets – there would be no surprises this time.  We stepped off the plane and met with Brookins and his cornerman Ivan Menjivar.  Ivan was always one of my favorite fighters.  A man who submitted Joe Lauzon and despite his diminutive stature stood toe to toe with George St. Pierre.  Our first meeting was made all the more memorable by Ivan's choice of wardrobe.  He wore Jeans and sneakers with an oversized hotel provided pinstriped pajama vest. The airline had misplaced his luggage forcing him to don the fashionable ensemble. 
The next day Brookins and Ivan toured the city while Andy and I went to train at Hearts MMA.  The fighters in Japan have a distinct style of training.  Their movements are fast, loose and constant.  They thrive on transitions and all seem to have limitless cardio.  Americans, on the aggregate, are different.  There is more strategy and counter fighting, more pressure and pinning.  The American style is more grueling, the Japanese style more tiring.  Like the difference between an uphill climb and a downhill sprint.  The change of pace was invigorating.  After the session we exchanged techniques.  On the mat our communication difficulties ceased, jiu-jitsu became our universal language.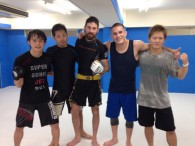 Open workouts and media day were next on the agenda.  Andy is typically very soft spoken in front of the camera.  His prototypical interview carries a tone of reserved humility, but this time around he was more audacious.  He made it clear that he was going to win this fight and demand a shot at the title after his victory.  Brookins was more introspective.  He spoke about this fight as part of finding his place in the world, he noted that his former wrestling coach was Japanese and that he always felt drawn to Japan.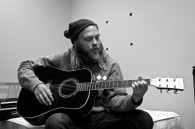 Brookins is an anomaly within the mixed martial arts world, a free thinker who exudes an abnormal level of honesty and sincerity.  Defying the MMA stereotype, he is without bravado. The reluctant celebrity, Brookins is a peace-loving yogi who doesn't even own a cell phone.  In conversation he spoke openly about his shortcomings and personal battles.  It appeared that for him fighting was simultaneously the easiest and most challenging profession.  Physically Brookins is gifted.  His movements are intuitively precise, his dexterity and flexibility are unmatched; his learning curve and athleticism are of the highest order.  Brookins' struggles are mental and philosophical.  He confessed that in the past he experienced cognitive dissonance between his peaceful lifestyle and his violent profession.  He wondered if by fighting MMA he could be in some way desensitizing people to violence and thereby contributing to society's malevolence.  He admitted that while his will to fight was ever present his allegiance to training waxed and waned and had it not been for Ivan's diligent supervision he may not have been able to return to form.  Brookins had a tall task ahead of him.  He was taking on the best Japan had to offer – the bantamweight King of Pancrase Shintaro Ishiwatari who had made his intention clear – he wanted to get to the UFC and use Brookins as his stepping stone.  Despite these crucibles Brookins was in high spirits.  Japan had energized him.  He felt like he was destined to be there and relished the chance to perform in front of this new audience.  Fighting had become a form of self expression and this bout was an opportunity to tell a new story.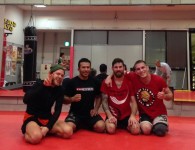 The session concluded by checking the fighters' weight.  After a hard training session Andy was on weight.  Brookins had 10 pounds to cut.  By general MMA standards losing 10 pounds the day before weigh-in is standard operating procedure, but in Japan things are different.  The Pancrase representative chastised Brookins for being so heavy and assured him if he missed weight the consequences would be dire.  Brookins laughed off the concerns and told the man that for all the grief he was put through he demanded to be taken to the finest Japanese restaurant after he made weight.   
Weight was made without issue.  Fight day was now upon us, with Brookins headlining and Andy fulfilling the co-main slot, which meant we would have some time on our hands.  Sitting in the locker room I took the opportunity to pick Ivan's brain on all things MMA.  He spoke about how the sport of MMA had changed over time.  He noted that when he came up the ranks he didn't turn down fights or hand pick opponents.  His intention was to test himself and compete.  A true throwback, he would take on anyone at anytime and do so with a smile on his face.  He spoke about how the sport needed to move away from weight cutting and the misery he endured starving himself down to 135 pounds.  He was critical of fighters who refuse to discuss their compensation, noting that without the information being made public there is too much wild speculation and young fighters can't accurately create a roadmap for their careers.  Ivan's perspective is unique since he has experienced the sport on every level since its inception – fan, student, elite competitor, coach and cornerman, he had seen it all.  Through our conversation it became apparent that Ivan's aspirations and concerns lay beyond his personal glory, he wants to better the sport for all athletes.

Finally fight time neared.  I wrapped Andy's hands, he warmed up and he began his pre-fight pacing.  I used to take his faceless expression and silent marching as a signal of nerves and insecurity, but now I recognize it as a sign of readiness, the final ritual before entering center stage.  The fight begins and Andy stalks forward.  Tamura begins firing kicks with full power, asserting himself and letting all in attendance know he has bad intentions.  After a series of strikes Tamura presses Andy up against the cage. As the minutes tick away a moment of worry creeps into my mind.  Andy is seemingly allowing Tamura into the fight, standing in front of him and acquiescing to being pinned against the fence.  Just as my fears begin to culminate Andy silences them with a well timed takedown.  He quickly advances his position until he is in full back mount.  Time is not on our side so I tell him to look for strikes rather than submissions.  Andy responds and lands a series of hard blows at the bell. I look at Tamura's body language as he walks to his corner.  He shows all the trappings of a man on the brink of defeat – slow to rise, fatigue written across his face, an ever so slight stagger as he stands.  Conversely, the air of confidence so present in training camp is once again alive in Andy. 
I instruct Andy to circle away from Tamura's power as I expect him to enter a desperation mode. I urge him to be less calculating and more aggressive in his striking, to capitalize on Tamura's inability to fight moving backwards.  The judges indicate that the round belongs to us.  Pancrase utilizes an open scoring system, taking the guess work out of assessing a fighter's performance in the stanza.  Andy nods his head in agreement and readies himself for the second round. 
As expected, Tamura races forward throwing heavy shots, but Andy's footwork provides him with no target.  Andy is more aggressive now, landing heavy shots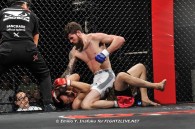 at will.  Just as it seems we have victory in our crosshairs Tamura lands a perfectly timed superman punch, the cleanest strike of the bout.  There was a palatable disappointment across Tamura's face as he realized Andy was unfazed by the blow.  Andy unloads a fierce combination and Tamura drops to the canvas.  For a moment I thought Andy had scored a knockout, but Tamura would not go so quietly.  Tamura desperately fights to tie Andy up from the guard as Andy works his passing.  Finally, he achieves the full mount. There are only 30 seconds left, but Andy has the finish on his mind. 
He postures tall and lands fierce punches, but in his haste Tamura begins to work his legs in.  I scream for Andy to get closer and switch to elbows.  He listens and the strikes begin accumulating in fierce succession, the only question now is if he can beat the clock.  Tamura begins to turn aw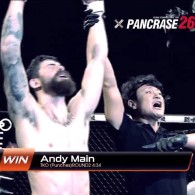 ay and abandons all defense, the ref mercifully steps in with just moments left on the clock – victory.
Andy is elated, he rejoices the moment and exudes the satisfaction known only to those who realize a hard fought goal.  I begin yelling "King of Pancrase" to the crowd petitioning for Andy's shot at the title as the referee raises his hand.  Walking out of the cage Andy is greeted by a wave of adoring Japanese fans.  The fans in Japan are more respectful.  In America spectators will often aggressively shove merchandise in a fighter's face with little tact or etiquette – American fans will often not
even know the competitor's name, but feel it is their right to secure his signature for their benefit. In Japan the fans often bring gifts to the fighters, small tokens of their appreciation to show how much they enjoyed the combatant's performance.  This time there was an artist in the crowd who gave Andy a portrait he drew of him to commemorate his time in Japan, a remarkable memento that illuminated the cultural differences in the east vs the west.

After attending to his fans, Andy and I turned our attention to Brookins as he made his way to the cage.  Ivan told me that although Brookins is seemingly more pacifist than pugilist, once the cage door closes he changes and the primal side of him takes center stage.  As Brookins squared off with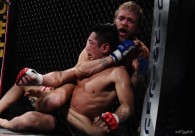 his opponent I could see the transformation was in full effect.  The fight was a complete barnburner.  Brookins would dominate the round and then somehow find himself in a firefight where it seemed both fighters could be knocked out at any moment.  There were several momentum switches and reversals of fortune and the fight became more of a test of wills than an athletic competition. Brookins' wrestling proved to be the difference though and he took home the unanimous decision.  Although he had defeated the champion the bout was a non-title affair, undoubtedly setting the stage for an epic rematch. Brookins was like a new man following his victory.  He was energized and enthusiastic about his future prospects and looked like he was ready for fight another 3 rounds right then and there.   
 Andy was reflective after his bout.  He told me he used to be nervous before competing, afraid of disappointing people – his friends, family and students.  Until he realized that his support wasn't predicated on having an unblemished record.  Those who cheer for him do so out of admiration for his daring struggle for greatness.  Competitive fighting is a metaphor for the struggles of life.  We don't win every battle, but we appreciate those who have the courage to continue in the face of adversity.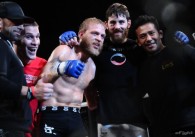 Andy and Brookins had traveled long roads to reach this point.  Andy had been a hot prospect when he joined the Ultimate Fighter, but injuries and illness forced him into a two year hiatus.  In that same span Brookins went from the exclusive fraternity of Ultimate Fighter winners to being unemployed and contemplating retirement.  There is indeed life after TUF though.  Both Andy and Brookins have climbed new mountains and reclaimed the spotlight half a world away from home.  They are two fighters who believe in themselves and it won't be long before they make believers out of everyone. 
Need more than words to bring the story to life check out the videos below:
See the Japan experience through Andy's eyes here
Brookins' Japan footage

Pancrase 262 Highlight
 
Train with Andy at his gym Pure MMA in Denville, NJ 
Hudson Valley martial artists check out Brian's school Precision MMA in LaGrangeville, NY