There are many misconceptions about martial arts.  When people find out what I do for a living they often ask me questions like how many boards can you break? Or what happened to your ears?  One misconception is with regards to self defense. I was recently speaking with a man who asked me if I taught self defense. I told him I do and he responds that the only self defense he needs is his handgun.  It's a common sentiment, why would I want to learn all these involved pins, choke holds and joint locks when I could just pull a trigger?  Obviously when faced with multiple attackers or against a deadly weapon a handgun has many advantages to BJJ.  However, in my opinion there are many instances where jiu-jitsu is a better tool for personal protection than a firearm and many of the self defense shortcomings of firearms are often overlooked by gun enthusiasts.
#1 – I can take my jiu-jitsu anywhere
The top drawback of having a firearm as your only means of self defense is that you cannot bring it to many places where you may need to protect yourself. In my home state of NY bars, certain restaurants, schools, racetracks, amusements parks, hospitals, airplanes, most sporting events and government buildings all prohibit firearms.  Additionally, you cannot have a loaded gun on your person while traveling in your car or in certain major metropolitan areas (such as NYC).  Those are simply the areas in which firearms are expressly prohibited by law, there are numerous instances where carrying a gun may just be impractical. 
Jiu-jitsu is different.  You cannot take my jiu-jitsu away from me or make me leave it at home; it is an inseparable part of my identity 24 hours a day 7 days a week.  I don't have to read up on legislation to decide whether I can bring my jiu-jitsu while traveling.  Ironically, when the gentleman told me he only required his handgun I asked him if he was carrying it right then and there, sure enough he was not.  Additionally, guns are not perfect machines. They jam, misfire or suffer a host of other malfunctions – while my jiu-jitsu isn't perfect I always have it available on demand.  
#2 – I've never armbarred myself
 Many of my friends are gun enthusiasts and routinely practice marksmanship and train for specific self defense scenarios with their weapon.  Aside from those that are active police or military who fired their weapon in the line of duty I don't know anyone who used their gun to stop an attack.  However, I know multiple people who have accidently shot themselves.  New Yorkers are familiar with the case of Plaxico Burress the Giant's wide receiver who suffered a self-inflicted gun shot wound inside a Manhattan night club resulting in a two year prison sentence.
Jiu-jitsu doesn't backfire.  When you apply a submission the only person who will suffer the impact of that attack is your intended target.  You also don't have to worry that your jiu-jitsu will fall into someone else's hands and be used against you.  While I may not know anyone personally who has used a gun to fend off an attacker I know many who have used their jiu-jitsu training to subdue an attacker and never once has their use of force resulted in any personal or collateral damage.  
#3 – Jiu-jitsu offers a sliding scale of violence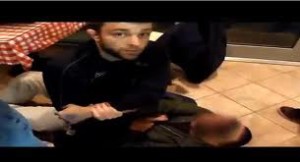 After defeating an opponent in the UFC Demian Maia once said "I want to show Jiu-Jitsu to the world. I want to show people that you can win a fight without hurting your opponent".  Maia highlights arguably the most valuable aspect of jiu-jitsu as a self defense art, the selective use of harm.  If someone is a threat to me and talking them down hasn't worked I can gently take them down, establish a dominant position and calmly diffuse the situation.  If more force is necessary I can throw light strikes to show them I mean business.  Should more force be required I could apply a submission and gradually apply force until I achieve compliance.  Finally, if all else fails I can render them unconscious, which while more aggressive is unlikely to result in long term damage.  Not every fight is life or death.  For example, one of my students had to subdue his brother in law after he had too much to drink and went after another family member.  My student simply got behind him, applied a rear naked choke and the altercation was ended.
When your only method for diffusing an assault is pulling a firearm it quickly escalates the situation to life or death.  As a result actions too often become erratic and chaos ensues.  While guns do offer a deterrent effect, if that deterrent is ignored the next step is lethal force.  Gun owners are trained to shoot to kill and while a Glock might be necessary for a hostage situation it isn't necessarily the best tool for diffusing a bar fight.  There are also serious psychological implications for self defense killings as well that are often underestimated by gun owners.  If your only tool for protecting yourself is lethal force you may have to face the uncomfortable reality of taking the life of another human being.  Jiu-jitsu offers a less than lethal option that can save an innocent person from the psychological stress of taking a life.
http://www.mlive.com/news/index.ssf/2012/06/experts_the_psychological_afte.html
For example, in this scenario jiu-jitsu training would have offered the officer a method of restraint that would have kept both parties alive.  Regardless of how justified the shooting may have been the officer now has to live with the fact that he shot and killed a man on his wedding night. A skilled jiu-jitsu practitioner would be armed with the tools to control the fight without loss of life.
Clearly there are instances in which carrying a gun could save your life.  I know I wouldn't want to test my jiu-jitsu against an armed attacker.  However, there are a host of situations and a scenarios where using a firearm is either illegal, dangerous, or unnecessarily escalates the encounter.  At the very least jiu-jitsu offers a viable first line of defense or alternative to lethal force that should be seriously considered by those who take their personal protection seriously.
Learn Brazilian Jiu-jitsu at the top Poughkeepsie martial arts school Precision MMA call 845-392-8495 or visit http://www.poughkeepsiemixedmartialarts.com to get started