4 Ways the Gi Would Change MMA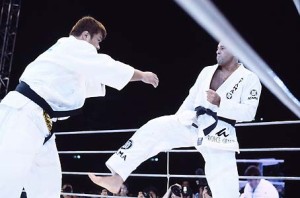 By Jamey Bazes
            The rules and regulations of the sport of Mixed Martial Arts have grown exponentially since the first Ultimate Fighting Championship took place back in November of 1993.  Back in the early days of MMA, when it was generally referred to as either NHB (meaning "No Holds Barred") or Vale Tudo (meaning anything "anything goes") there were no weight classes, no time limits, no restrictions on the attire worn by the competitors, and only three rules: 1) no groin shots, 2) no eye gouging and 3) no biting.  As the sport evolved more safety precautions were put into place.  Over time, knees to the head of a grounded opponent, strikes to the back of the head, kicking the head of a downed opponent and downward elbow strikes were all banned.  Wearing anything other than regulation shorts, cup, mouth piece and 4 ounce gloves was disallowed while Gis, T-shirts and shoes had previously been permitted, 8 weight classes were set into place and time limits were firmly established along with a number of other changes.  We have even recently seen the entry of women into the UFC while only a few years ago president Dana White had said this would never happen.  With the change of rules and format many bout outcomes have been altered from what they might have previously been.  With the introduction of time limits, no longer is a bottom guard player allowed to wait all day long to secure a submission, so many Brazilian Jiu-Jitsu fighters do not have as much success as they did in the early days.  Because of the prohibition of certain strikes, strikers have found their arsenals limited from what they once had, and perhaps some have had less success because of it.  These changes in the sport are talked about with some frequency by MMA fans who have an interest in how the sport has adapted over time.  However, one rule change which is not often discussed which has drastically changed the MMA landscape is the prohibition of the Gi in MMA, and MMA fans rarely consider how much this may have altered fight outcomes.  I for one, believe that though many of the rule changes that have taken place in MMA have been positive, that there is room for more than one rule set in Mixed Martial Arts and that it would be both possible, and very interesting, to see MMA matches occasionally fought with the Gi on to see how different the results might be from current no-gi MMA.  Afterall, sport Brazilian Jiu-Jitsu includes both Gi and No-Gi divisions, so why couldn't the same be done in MMA?  In this article, I will discuss 4 ways in which I think occasional Gi matches could change the outcome of MMA fights, and why I believe that it would not be ridiculous to introduce Gi divisions into modern day MMA.
            Before going into the ways in which the introduction of the Gi could change the outcome of an MMA fight I would first like to address possible criticisms to this idea and my thoughts about how this concept could be put into practice without it hampering the positive changes which have already taken place in the sport.  When discussing the concept of Gi-MMA fights with other MMA fans the first criticism that I usually get is that MMA fights fought with the Gi on would involve too much stalling due to the fighters excessively holding onto each other's Gis.  To this criticism my response is that the sport of MMA already has a great deal of stalling and that in certain ways wearing the Gi could actually prevent stalling, or at the very least, make it no worse than it already is.  For one, lately we see an abundance of wrestlers in particular satisfied to score takedowns and then simply sit in an opponent's guard without trying to pass while only landing minimal strikes and hoping for the decision.  This tactic is often referred to as "lay and pray" by MMA fans.  In my opinion, a Gi MMA match would decrease the incidents of "lay and pray" because fighters would have a much more difficult time sitting in top guard against skilled BJJ players who can use the Gi to attempt many submissions which are not possible in regular MMA, including Gi chokes and many types of submission set ups which utilize the Kimono.  What I think we would see in a Gi MMA match, is fighters without expert submission defense being much more reluctant to go to the ground with top BJJ artists, and a much greater attempt to pass top guard once hitting the ground than we currently see due to the extra threats a bottom guard player would have.  Because of this, I think the extra emphasis on either passing guard or staying off the ground in particular might lead to more submissions for the bottom guard player once hitting the ground, and also more knockouts in fights that might have otherwise gone to the ground where the wrestler or top game expert chooses to stand out of fear of the bottom game of his opponent.  In all likely hood, I actually see the possibility of fights fought with the Gi on having a much greater percentage of finishes than we currently see.
            A second criticism I hear to this idea is that there would be no fan base for MMA fought with the Gi on, but without any reason being given for why this would be so.  I don't have much to say to this criticism other than that the idea is entirely unfounded.  Back when MMA allowed the Gi and different types of clothing it had its fans, and the Pride Fighting Championship also allowed the option of wearing the Gi and was at one time just as popular as the UFC. 
            Yet another criticism I hear to this idea is that people would see wearing the Gi in MMA as unnatural or strange and not want to watch because of that.  To this comment I would respond with the following retort.  I would first ask them why no-gi MMA fighting is natural in the first place.  Lets face it; nearly all of the rules that have been put into place in modern day MMA are almost entirely arbitrary.  A street fight in its' essence has no rules to begin with, so any rule set is arbitrary.  However, because MMA is not a street fight but rather a sport, it must include rules and whether or not the rules are appropriate is entirely subjective and dependent upon the commissions which preside over them.  For example, there is no reason why knees to the head of a downed opponent are unnatural or necessarily any more dangerous than slamming an opponent directly on his head, which is allowed currently in MMA.  Likewise, I cannot understand why strikes to the throat are still legal with the dangers they pose, or why upkicks from a bottom guard player to the head of a grounded opponent are illegal when they are probably no more dangerous than any head kick.  All these rules are arbitrary, and so in my opinion is the restriction of wearing the Gi in MMA.
            Finally, critics to this idea will state that there would need to be separate weight classes for fights fought with the Gi on, and that in particular, the UFC as the largest MMA org in the world would not have room on its roster for these separate divisions.  To this I respond that it is most likely true that the UFC would not have space to accommodate all those extra fighters choosing to compete only with the Gi on, nor would they have the time on their cards to showcase these sorts of fights.  However, they would most likely have the time and money to put an occasional "Gi-MMA" fight on a card, and I see no reason to believe that there would not be an audience for it.  But the UFC is not the only MMA organization in the world.  If the presiding commissions would agree to allow for Gi-MMA fights with very few rule differences from those set out in the Unified Rules we could see separate orgs rise to prominence with only Gi-MMA fights and the sport could grow on it's own as a sub-genre of MMA with its own champions and weight classes.  I see no reason why MMA needs to have only one rule set, and apparently, neither do the Japanese with their differing formats which allow fights to be fought with the Gi, as well as knees to the head of a downed opponent and several other rule differences from those used in the U.S.A.
            So now that I have addressed the possible criticisms to allowing Gi-MMA fights to take place in the current landscape of the sport, let me address how the outcomes of fights might be different if fought with the Gi on and why these sorts of fights might be very interesting to watch as well as to compelling to compete under for current MMA fighters of different backgrounds.  First of all, experts in arts which utilize Gi throws and takedowns such as Judo and Sambo would find much more success than they currently do.  Right now the fighters who generally achieve the most takedowns in MMA come from wrestling backgrounds or from heavy cross training with wrestlers.  However, if MMA was fought with the Kimono this might no longer be the case.  Wrestlers and other sorts of takedown artists would have no answer to the specific tactics of Judokas and Sambo experts and would have to cross train in these styles.  Also, the high amplitude throws utilized in Judo and Sambo which are less prominent without the Gi would probably be extremely entertaining for viewers.  Many countries with top level Judokas would also become more involved in MMA as a whole and this could only add to MMA's growth worldwide.
            Another way in which the usage of the Gi would change the outcome of MMA fights is that there would be many more submission finishes overall.  Gi chokes would become a common finish, which are of course impossible in modern MMA.  However, almost all other submissions would probably become more common due to the extra grips and friction allowed by the Gi, as well as reduction of the sweat factor which allows fighters who are not necessarily all that skilled in submission defense to escape from decent submission attempts.  Finishes by way of arm lock, leg lock, and chokes of all kinds would most likely rise in incidence, necessarily leading to more finishes in general and fewer decisions, which would please MMA fans in general.  Also, holding dominant positions would become easier and we would likewise see more finishes by way of ground and pound and TKO.
            This ties in to my next point which is that the guard position in general would become a more dangerous position to be in for the top fighter and for this reason opponents on top guard would be more likely to attempt guard passes.  Because submissions and sweeps would become a much greater threat for the top guard player, fighters who might normally stall while on top in guard or half guard would be forced to attempt to pass to positions like sidemount and mount where they would not be in such danger against skilled submission artists.  This would in turn lead to more submissions and sweeps for the bottom player because the attempted guard passes would leave the fighter on top vulnerable.  It would also lead to more finishes for the top player who can successfully pass guard, because submissions and ground and pound are more effective from top positions like mount and sidemount than top guard.
            Finally, because going to the ground in general would be a more dangerous proposition, especially against Brazilian Jiu-Jitsu experts with excellent guards, many fighters who would otherwise choose to grind out boring top control based decisions might choose to keep the fight standing and try to win using their striking.  I think it is extremely likely that Gi MMA fights might include more striking than modern day MMA because of the extra threats of going to the ground, and in general the more casual fans as well as the die-hards tend to love a good stand up battle.  All in all, I believe the incidence of finishes of one kind or another would go up exponentially with the Gi on, and in general MMA fans prefer to see a finish of one kind or another over a decision.
            In summation, there is no reason to assume that MMA fought with the Gi could not thrive as a sub genre of MMA in the United States and worldwide.  As already mentioned, there are a number of reasons why finishes by way of submission, KO and TKO might rise due to the unique circumstances created by the Gi, and we would most likely see an increase in exciting high amplitude Judo throws which would probably be greatly crowd pleasing.  Fighters of different backgrounds would have more chance of success and really, the idea that MMA needs to be fought at all times under the rigid format that it currently has adopted is an arbitrary concept.  If MMA has room for fights fought in both the cage and the ring, by both men and women and by fighters of all weights from flyweight through heavyweight, then I see no reason why it cannot have room for fights fought with the Gi on.  Perhaps at some point some open minded athletic commissions and fight promoters will give this idea a shot and we can find out if the assertions made in this article are correct.
Jamey Bazes is a Hudson Valley MMA student at Precision Mixed Martial Arts.  He holds a brown belt in Brazilian Jiu-Jitsu and is a lifelong martial artist.