On May 11th at the Borgata in Atlantic City it will once again be fight night! I'll make the thrilling 4 hour car ride from the Hudson Vally over to cheer on a few of my students / training partners.  He might be too short to ride Space Mountain, but Sean "Shorty Rock" Santella is without a doubt the top 125 pounder in the northeast.  Shorty and I have been working hard to improve his submission game and this is a fight I'm very excited for.  His opponent is an aggressive wrestler – the past few fights people have been running from Shorty and avoiding the ground at all costs. I can't wait to see someone engage him so he can put all his skills on display.  I always have a blast at CFFC and the local support is awesome, but I really hope this is Shorty's last local fight.  The kid has been on a tear and needs to be fighting in the UFC.  Hopefully, a crowd pleasing submission will be his ticket in.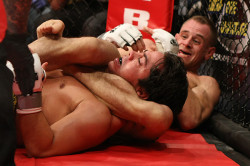 Also on the card is National Champion Wrestler and Justin Bieber lookalike Corey Bleaken.  I really think that Corey is the best kept secret at AMA Fight Club.  Starting as a pure wrestler he has transformed into a formidable MMA fighter. So far he's undefeated and fresh off his successful pro debut.  Between fights I spent time sharpening Corey's ground and pound technique.  I think he learned things a little too well, every time we spar I am steadily losing brain cells.  If his opponent gets taken down he might just drop a few IQ points by rounds end.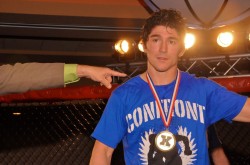 I'll get to play cornerman Saturday night. Ironically, I've been told people like me in the corner because I have a calm demeanor and help them stay composed.  The reality is that I'm a nervous wreck and on the verge of losing my mind with each exchange.  Hopefully when I inevitably lose my voice it will be in a winning effort.
For all you New Yorkers – check out my Hudson Valley MMA gym Precision MMA in LaGrange, NY and you could be the one fighting in front of sold out crowds call 845-392-8495 or visit http://www.poughkeepsiemixedmartialarts.com