2014 has been busy for me.  Although the year is still in its infancy I've traveled from Poughkeepsie to Las Vegas, Atlanta, and now Tokyo, along the way sharing in surreal victories and heartbreaking defeats. The mixed martial arts world is a roller coaster of experiences.  Fights are by their very nature chaotic and unpredictable.  As martial artists we attempt to tame the beast of uncertainty through rigorous training and preparation.  Yet, despite our best efforts there are no guarantees and fortunes rise and fall with each punch thrown. Although I've often times felt the cold realities of this phenomenon; as I boarded the plane for Tokyo I thought to myself, "we've got this in the bag".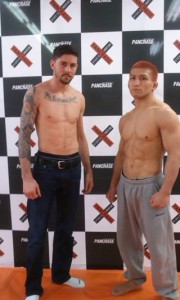 Stepping into the ring was Andy Main, a long and lean southpaw who could tap out most men with a stern glance.  He was riding a three fight winning streak, including a victory over Hiroki Aoki, a feared top ten Pancrase fighter.  His opponent this time around was Akira Okada.  Akira was heralded as the top pupil of Japanese MMA legend Takanori Gomi.  Similar to "the fireball kid" Akira earned his victories through vicious power.  He'd throw hard and often, and on more than one occasion left his opponent wearing a crimson mask of his own blood.  However, his power and fierceness left him wild.  A precise fighter like Andy could navigate the turbulent sea of aggression and find many ports to victory.  There were other factors on our side as well – Andy was half a foot taller with a sizeable reach advantage.  His movements were faster and more dynamic. Akira moved forward in a leaping fashion, Andy's footwork was sure to leave him lost and confused.  Andy had also sharpened his jiu-jitsu, adding new submission entries from his already dangerous guard.  Every time I ran the numbers the arithmetic yielded the same result, an Andy Main victory.
Boarding the plane felt familiar.  Things were going to be easier this time around I thought. We were prepared for the marathon flight and jetlag.  We knew where to train and how to traverse the landscape.  The ring would be familiar and the unique rules routine.  While the lack of novelty was comforting, it also made the experience less magical.  We had become well acquainted with Japanese mores; episodes of culture shock were few and far between.  This trip was less about exploring a foreign land and more about taking care of business. 
After getting settled we went for our fist pre-fight workout.  Since Andy was fighting at 155, a weight class above his featherweight home, his energy was high and we were able to train hard.  We rolled for close to 30 minutes straight and I had to fight for every inch of progress.  Andy's transitions were sharp and the 15 hours of flight had not robbed him of one ounce of strength.  We went over a small handful of techniques and scenarios and then met the media for photo ops and interviews. 
Later in the evening I wanted to get some training in so we made a trip to Tri-force Gotanda, a spectacular BJJ school that I had visited during my last trip to Tokyo.  We reviewed some Judo throws and then it was time for rolling.  I expected Andy to be a bit slower considering our earlier training session, but he was every bit as fast and left his training partners scratching their heads and gasping for air.  I knew he was without a doubt in fight shape.
The following day was weigh-ins.  I was surprise when I saw MMA legend Yuki Kondo step on the scale.  I had no idea he was fighting on the card. Kondo had tooth and nail battles with the likes of Semmy Schilt and Dan Henderson.  He famously stopped the MMA hopes of BJJ legend Saulo Ribeiro and even took on Tito Ortiz for the UFC title.  Even more amazing was that Andy had higher billing than him on the card.  Kondo shook my hand and obliged my requests for photos with admirable humility.
Finally fight day was upon us, we followed the routine of "hurry up and wait".  Pancrase events are marathons with up to 30 bouts on a single card with talent ranging from aspiring new comers to mixed martial arts royalty.  Andy was the co-main event, which meant we had some time to kill.  We alternated between waxing philosophical about deep existential mysteries of the universe and trading stories about crazy ex-girlfriends.
As fight time approached we rehearsed the gameplan and I went about reassuring Andy of his success (which is as much for me as it is for him).  When I heard the familiar sound of his walkout music I knew we'd reached that point of no return and made our way towards the ring.  The bell sounded and Akira rushed forward, Andy rattled off a three punch combination finding the mark with each strike.  After tasting Andy's strikes Akira rushed in for the takedown.  I could tell Akira's strength and power were alive and well for this bout.  Immediately Andy tied Akira up, taking away all his offensive options.  Akira drove his head forward pressuring Andy, but this only made him more vulnerable to attack.  Andy shifted his hips and began maneuvering into position for armbars and triangles.  After several close calls Akira abandoned all offense and made survival his sole concern.  The round came to a conclusion and I assured Andy that his strategy was working, but he'd need to open up more in order to secure the submission.  I also noted that Akira had unusually small arms, making the triangle a better option than the armbar.  Andy nodded and paced in the corner awaiting the start of the second round.  A unique part of Pancrase is their open scoring where fighters know exactly what the judges render after each round.  Two judges scored the round even, one judge gave the round to Andy; making us ahead by the smallest of margins. 
Akira was aware he was behind and the threat of defeat clearly awakened a dormant sense of urgency in him.  The echo of the bell was still in the air when Akira leapt forward with a thunderous punch.  The shot landed flush but Andy clinched and fired back a knee.  They were chest to chest now, which negated Andy's reach advantage and gave Akira the window he had been waiting for.  Akira fired off rapid fire hooks, uppercuts and knees finding their mark over and over again.  Andy was caught off guard but bit down on his mouth piece and began firing back.  The fight devolved into a pure slugfest where Andy was taking two to give one in a battle of pure power – a battle that Akira was clearly winning.  At one point Andy stumbled and Akira pounced on him, driving him to the ground and punching with murderous intentions.  As he passed to the mount I was screaming for Andy to tie him up and regroup, but I could tell he wasn't firing on all cylinders, as the strikes began to add up the referee seemed moments away from stopping the fight.  A trickle of blood ran from the corner of Andy's eye and sweat poured from his body.  He was faced with a decision, he could lay down and accept defeat or he could move his hips and stay in the fight.  He chose the latter. Andy recovered his guard and threw up a triangle attempt, although Akira wasn't in real jeopardy symbolically this told him that he was still in a fight and nothing short of death was going to dissuade Andy Main.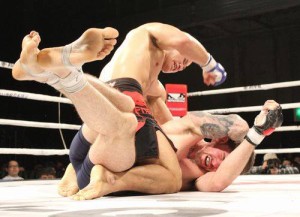 Andy made his way back to the corner and I attempted to reassure him that Akira was exhausted and he could still win the fight if he kept his guard up and fought in the center of the ring.  I ignored the scores and before the start of the round screamed "You can still win this!"
Andy got off the stool and marched toward Akira with confident determination.  He looked desperate to return the favor.  They traded punches much like the previous round, but this time Andy's strikes had steam on them and Akira's were losing power.  A big knee sent Akira staggering back into the ropes and just like that the momentum had officially changed hands.  Akira powered a takedown, undaunted Andy began firing off submissions left and right.  Despite being on his back Andy was clearly in control of the fight.  Each successive armbar and triangle attempt was closer than the one before until it happened…a fully locked in triangle.  The figure four was perfect, the arm was across the carotid artery, the leg was hooked to prevent the escape – everything was in place.  Akira struggled, twisted to his side, stacked his weight forward, furiously attempted to posture, nothing was releasing Andy's hold, there would be no escape.  I was elated, we had survived the most turbulent of fortunes and now victory lay in our lap.  Akira made one thing clear though, he would not be tapping.  If we were to steal victory from him it would have to be pried from his cold dead hand.  Just before the final second ticked away I saw Akira slump over, I thought for sure he was unconscious, but as the final bell sound he rose still in the fight our fate would now be decided by three judges. 
As a fighter you become a utilitarian.  Success, failure, sadness or happiness is dependent on one result – victory.  Absolute success and abject failure are a consequence of three people's opinion.  However, in the moments before the scores were tallied I couldn't have cared less about the decision.  What Andy had accomplished in the ring that night was a victory of magnificent heights regardless of the callous number system attributed to his name.
Both fighters made their way to the center of the ring. Eyes closed and fists clenched, enduring the uncertainty like a title wave, the decision was read…DRAW.  The anticipation met a seemingly anti-climatic conclusion, there was no jubilation, no pounding of chests or devastating remorse – both fighters shook hands and walked away bewildered and dismayed. 
Fighting isn't easy, stay with it long enough and it will bring you face to face with your greatest fears.  Physical fears of fatigue, pain and injury are the obvious dangers that occupy the concern of the uninitiated.  However, the truly terrifying phobias a pugilist must confront are those of failure, inadequacy, and cowardice.  Along with these perils fighting brings truth, it shines an illuminating light on the character of those daring enough to step into the ring.  The greatest victory a fighter can earn comes not from the external validation of fame or fortune, but of self mastery.  Andy ventured to Japan in search of victory and although that eluded him, along the way he earned something much more valuable.