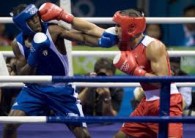 Competition is anxiety producing. Each athlete has to discover their unique coping mechanism that allows them to perform at their best despite the stress of the event. Regardless of how rigorous the training environment may be, this is not a solution that is found within the walls of the gym. No, this skill is only acquired through the exposure of standing across from a someone you know is going to do everything in their power to beat you. It is all but undeniable that wrestlers make the smoothest transition to professional MMA competition. However, I do not believe this is because wrestling is the best base skill for mixed martial arts. The vast majority of techniques from wrestling do not translate to MMA and many wrestling habits will get you destroyed when faced with a competent grappler or striker. Also, most of the wrestlers who find success in the cage only do so after adopting a striking or BJJ intensive strategy. Johnny Hendrix is known more for his devastating right hand than his great inside trip. So why then do wrestlers reach such high levels? In my estimation it is because wrestlers endure hundreds of matches in a grueling format of combative competition. Just as amateur boxers have hundreds of bouts before stepping into the professional arena, wrestlers are groomed from an early age to stand across from someone and keep themselves together. I'm sure Ben Askren cried, threw up, had rubber legs, under performed, over trained and mentally quit in many a wrestling match coming up the ranks. Somewhere along the line though he zoned in and found his way to win and that mental fortitude laid the foundation for a successful professional career. For those who dream of wearing UFC gold, delay the gratification of being a pro and enjoy your time as an amateur. Take your loses in stride and find new ways to challenge yourself across as many disciplines as possible.

Even more important though, find a good gym to train at, if you're in the Poughkeepsie area check out Precision MMA in LaGrange, NY and if you find yourself in Morris County, NJ check out Pure Mixed Martial Arts.

MMA fighters love telling people they are professional fighters. They love it even more when someone else says it about them. The term conjures up an amalgamation of Bruce Lee and Jon Rambo and for many it's the ultimate ego boost. As a result aspiring combatants seek to earn this moniker as fast as possible, forgoing the crucible of a rigorous amateur career. The problem is, once you go pro there is no turning back. Too often high level grapplers will throw their hat into the pro MMA arena despite being very uncomfortable on their feet. These same grapplers were once unsure of themselves on the ground, but through the local grappling circuit they increased their confidence, patience and comfort on grappling competitively in front of crowds. They could achieve the same level of competence with their stand up game by entering amateur boxing and muay thai bouts. However, once a competitor has entered pro MMA they can only compete in striking events at the pro level as well – not a suitable platform for a novice striker. This is also where a fighter can work out "the kinks" without suffering a professional penalty. If a fighter has a bad weight cut or gets performance anxiety and suffers a loss, the "L" won't follow them once they turn pro and losses represent a considerable setback at the professional ranks.