Over the last decade and a half I've had over 100 grappling matches, 9 pro MMA fights and a handful of boxing matches.  In that time I've faced black belts, world champions and professional competitors from a myriad of martial arts backgrounds.  However, in truth I've never considered myself an ideal candidate for martial arts competition.  In many ways I don't have the stomach for it.  I sweat the small stuff – I obsess, stress out and far too often allow bright lights and uncertainty to overwhelm me.  In times of discomfort and peril one must develop a coping mechanism or fall to pieces entirely.  For me, I coped with the crucible of competition by preparing as vigorously and thoroughly as possible.  I left no stone unturned, I attempted to maximize my potential for victory with regards to each and every variable.  I believed if I dotted every "i" and crossed every "t" then the only plausible outcome would be a decisive victory.  I often carried this approach to ridiculous reaches, occasionally flirting with absurdity.  I remember when I first started preparing for MMA I had trouble acclimating to the gloves so I wore them around my apartment performing every imaginable task for two weeks straight.  Often my neurotic tendencies were harmless with the worst consequence being the slings and arrows of peer ridicule.  However, one area where I potentially faced severe detriment was with regards to weight cutting.
Growing up I was always the small kid.  As a result I think I developed a warped body image, always seeing myself as weaker than my peers.  Weight cutting offered me a solution to this dilemma.  One advantage I had as a competitor was that I was always willing to inconvenience myself in order to improve.  5 AM runs for cardio, 2 hour car rides to train at the best gym, going broke buying private lessons – if I thought I'd improve by 1% then all were performed without hesitation.  As a 17 year old blue belt I knew most people wouldn't be willing to put trash bags on and run in the 90 degree heat for an hour in order to have a 6 pound weight advantage, but for me, I'd do it with an ear to ear grin on my face.  So back in 2002 my weight cutting saga began.  As a teenager my body was pretty resilient.  My "weight cutting" routine consisted of a few weeks of crash dieting followed by hard cardio sessions in a sauna while covered in trash bags.  I did every stupid thing you could imagine.  I'd drive to summer tournaments in my winter coat with the windows rolled up and the heat on. In traffic jams or red lights I'd chew gum and spit into a plastic bottle.  In the winter I'd occasionally sleep with the heat off and windows open since I read that shivering forced your body to burn more calories.  In reality I probably wasn't doing myself much good, but for me it was a mental hurdle.  I looked at my competition and knew I was bigger than them and that was enough to allow me to compete with confidence.  I was earning plastic trophies which likely appraised for less than $5, but intrinsically they were priceless.  A part of me knew this wasn't healthy.  When cutting weight in high school I'd answer the most pedestrian test questions incorrectly and in training I once was so fatigued when I introduced myself to a new student I told them the wrong name (yes, I once was so loopy I forgot my own first name).  We all did stupid things in high school, some people got bad tattoos, I cut too much weight.
Like anything, my weight cutting underwent a maturation process.  I read a few books and took some college courses on nutrition, resulting in a more refined diet and cutting routine.  I had things down to a science and was following less detrimental practices.  There was one tournament where I slipped up though; using an inaccurate scale I missed weight for a pro grappling division.  I was so embarrassed I swore it would NEVER happen again.  I thought to myself, I would rather have both my arms broken than admit that I couldn't make weight.
At this point all weigh-ins were the same day as the competition.  However, once I was bit by the MMA bug everything changed.  Now I would have a full 24-30 hours to rehydrate prior to competing.  In MMA the stakes were higher as well.  There was much more money on the line than in grappling and fighters were willing to make sacrifices that amateur grapplers would not.  I now had to cut weight not to gain an upper hand, but to simply avoid being at a disadvantage.  This was 2006, Sean Sherk and Rich Franklin held UFC titles in large part by dropping a weight class and enjoying considerable size advantages.  For my first fight I sweat out 10 pounds over two days to weigh in at 155, I won the fight but kept thinking I was too small for the weight class.  Eventually I was dropping close to 15 pounds the week of the fight.  I finally felt like I was big enough, but at the same time my life was revolving around making weight.  Friends hated going out to eat with me because I would grill the waitress on the type of cooking oil used or whether their salad dressing contained sugar.  The problem became, as soon as I was big enough for the weight class I was having trouble making weight.  I thought about going up to welterweight, but being 175 pounds I knew I would be at a huge disadvantage going up against guys coming down from 190 pounds.  Psychologically the weight disadvantage would be too daunting.
I remember going out for the Ultimate Fighter and being reminded the shame of not making weight.  We had all been paired off for our elimination bouts and Jason Guida missed weight by 1 pound.  He was severely dehydrated, he was having muscle spasms, his blood pressure dangerously low and he was dry heaving and light headed.  He was universally resented for his failure to make weight and in many ways his professional career never recovered.  I remember thinking "that will never be me, no matter what". 
After many fights were canceled last minute I was starting to lose my desire to compete.  I had resigned myself to simply being an instructor and relaxed certain aspects of my regimen, my super strict diet being one of them.  Then I got an opportunity to fight in Strikeforce, but I would have to drop 25 pounds in about three weeks.  Not wanting to miss out on the opportunity, I took the fight.  The weight didn't come off the way it usually did.  Half way through my cut my body stopped sweating.  I was sitting in a steaming hot bath covered in rubbing alcohol and Epsom salts.  I was mentally and physically falling apart and still 4 pounds over.  Picking myself up to check my weight felt like climbing Mount Everest.  My cornerman was keeping an eye on me and felt like I had transformed into a different person.  All I thought about was that I HAD to make weight.  I didn't care about the damage I was doing to my kidneys or even how detrimental the cut would be to my performance the next day, I would rather die than face the shame of missing weight. 
After trying every single trick in the book I made the weight.  To this day I consider it the hardest thing I've ever done in my life.  Come fight time I fought great…for the first minute of each round.  Then I was so fatigued I could barely pick my hands up to block the punches to my face.  I was beaten badly, covered in blood and embarrassed – but I do remember thinking "at least I made weight".
I equated missing weight with quitting, with cheating, with being a coward. I could deal with my opponent getting the better of me, but I would never want to endure the shame of not showing up the way I had agreed to – on weight.
More recently I decided to jump into a grappling tournament, my first one in years.  I was 172 pounds a few days before the competition and was planning on sweating out 12 pounds to jump in the 150-159 pound division.  As I put my foot in the steaming bath I felt the familiar discomfort which flooded back memories of Strikeforce.  I immediately got out of the water and began to wonder what was wrong with me.  Did I suffer some sort of amnesia?  This was a NAGA tournament, I wasn't earning any prize money (in fact I was paying to compete) and still I was going to put myself through that torture.  It was just part of my routine, if I didn't shed any weight I was forced to face my pre-competition neurosis and admit the fact that someone might be a little bigger or a little stronger than me.  I ate breakfast and competed in the 170-179 division.  At the end of the competition I realized the need to cut weight was largely in my head.  Yes a few guys had bigger biceps than me, but the consequence of competing at a higher weight class was worse in my imagination than it was in reality.  I was glad that for once I valued my health above a shiny belt (fortunately I was still able to win the tournament).
Lately the issue of extreme weight cutting has been placed under the mixed martial arts microscope. Just weeks ago in just his 3rd pro fight, Nova Uniao's Leandro "Feijao" Souza died while cutting weight.  There are reports that Souza was taking Lasix, a powerful loop diuretic used to treat edema and hypertension, in order to shed excess water weight.  Souza passed out in the sauna, still 2 pounds over the 125 pound weight limit, before being taken to the hospital where he was pronounced dead.  More recently, Rodrigo Damm was forced to withdraw from his UFC bout with Hacran Dias due to kidney stones associated with cutting weight.  Recently, infamous UFC weight cutter Gleason Tibau revealed that despite competing in the 155 pound weight class he routinely enters the octagon at over 180 pounds.   
I have friends who have passed out while sitting in a sauna.  Kidney stones are most common in males over 40 years old, but I know more than a few fighters who have endured them in their 20's.  I guarantee the weight cutting problem will get worse before it gets better.  Pundits, gurus and experts have all suggested solutions to the problem.  Recommendations have ranged from additional weight classes, multiple pre-fight weigh-ins, or hydration tests.  Brazilian Jiu-jitsu has done away with weight cutting by weighing the competitors immediately prior to the start of the bout and disqualifying anyone who misses weight by the slightest of margins.  While this works for tournament jiu-jitsu, it would be disastrous for professional MMA.  Huge fights would be lost on the scale rather than in the octagon.  Too much money is at stake for the UFC to risk disqualification in high profile bouts.                   
Honestly, only a cultural shift is necessary for the sport as a whole.  Coaches need to monitor the weight of their athletes and educate them on safe weight loss practices while dissuading extreme measures.  Fighters need to be less short sited and consider their long term health.  Retired fighters should alert the younger generation about the troubles they've faced as a result of their years of extreme weight shedding.  Above all though, competitors have to realize that regardless of the professional stigma or personal shame, no match is worth dying over.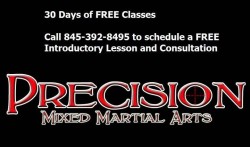 Brian McLaughlin is a Poughkepsie MMA coach at Precision mixed martial arts in LaGrange, NY