Metamoris 1 was the arguably the most exciting professional jiu-jitsu event ever created.  An eclectic assortment of different jiu-jitsu approaches – fast and furious, or slow and methodical, intense or playful all pursuing the ultimate goal of submission.  Even when no submission occurred there was a sense that each competitor truly left their heart and soul out on the mat.  Metamoris 1 was a landmark, torches were passed, rivalries intensified, questions were answered and even more were asked.  Every fan of jiu-jitsu awaited the next event with baited breath.   
Metamoris 2 was the worst sequel since The Godfather 3, a failure of colossal proportions unimaginable by even the most pessimistic of individuals.  After any horrific tragedy the survivors are left with 1 question…why?  Some actions are so deranged that no sense can be made of them; such is the case with Brendan Schaub.  The only winner in that situation was Matt Mitrione, who gained a huge army of supporters for his UFC on Fox 8 bout vs Schaub.  The question was asked by Rener Gracie, if you had to face Cyborg what would you have done differently?  The answer is simple, I would have grappled him.  If I boxed Flloyd Mayweather and simply fled the ring every time he came close enough to throw a punch I would not be proud of my performance or kid myself into thinking I somehow benefited the sport of boxing.  The match was reminiscent of Nate Quarry's battle against Kalib Starnes.
http://mma-gifs.tumblr.com/post/25934430624/ufc-83-nate-quarry-vs-kalib-starnes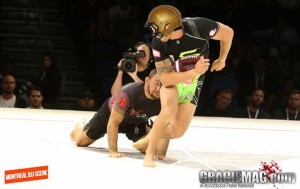 The Schaub abomination aside, the evening was full of people fighting tooth and nail for bottom position, tug of war lapel battles and monotonous half-hearted foot lock attempts.  If not for Kron Gracie and Shinya Aoki there would have been no hope whatsoever. 
The purpose of this diatribe is not solely to vent frustration (however cathartic that may be), but to hopefully offer some suggestions in the hopes that the greatness of Metamoris 1 may one day be repeated.
#1 – Create a closed perimeter
Rorian Gracie wanted to avoid having contestants flee the ring when he thought up the UFC.  The use of a cage wall accomplished this end.  While it is understandable that Metamoris wants to differentiate itself from MMA, some sort of physical barrier is necessary.  A padded wall of plexi glass hockey rink esque barrier is necessary.  Even in the name of safety the change should be made since multiple times fighters were nearly thrown from the mat. 
#2 – No judges
Truthfully Metamoris is in many ways a repackaging of Rose Gracie's "Gracie Nationals" tournaments.  Rose got it right, you can't get your hand raised unless you go for it.  You must pursue the submission, period.  The most exciting matches of Metamoris 1 were Xande vs Lister and Roger vs Buchecha.  However, those matches were made amazing by the fact that the fighters wanted to win so badly that they constantly attacked.  Beautiful submissions coupled with amazing escapes occurred as a result of submission being the only path to victory.  The finality of a winner is not terribly important in this event since it is not a tournament and not about promoting the fighters as much as promoting the art.  Also, in both cases the court of public opinion picked a clear winner anyway.  The ironic part of Metamoris 2 was judges were brought in to prevent a draw and the first two matches were judged as a draw.   Finally, it may be a moot point since Kron submitted Aoki, but I couldn't help but feel like the game was rigged against Shinya since two of the judges could not easily remain impartial – JJ Machado is part of Kron's extended family and Pedro Sauer is his father's top black belt, it just seemed unfair if you ask me.
#3 – Disqualifications for stalling, timidity or flat out running away
If a competitor turns his back and runs away then they aren't there to compete.  5 Minutes into the Brendan Schaub / Cyborg match it became apparent that Schaub wasn't going to engage anywhere, on the feet or the ground.  Simply end the contest and move on.  I am a fan of a zero tolerance no warning system, just automatic DQ for obvious offensive.  This would be the stalling equivalent to the IBJJF's knee reaping rule. After the first couple of DQ's the message would be crystal clear, grapple or lose.
#4 – Metamoris Tryouts
The problem is that grapplers are being brought in and the promoters simply cross their fingers and hope that they will be exciting.  I believe that elite grapplers should apply be brought in and made to roll for 20 minutes.  The ones who get to compete are those who attempt submissions and are exciting to watch.  I don't care if they aren't the best or if they get tapped out, if they put on a show they get a chance to compete.  Also let it be known that those who do not perform will not be invited back.  
#5 – Cash Incentives
I don't know how athletes are compensated at Metamoris, but putting a carrot on a stick would help encourage action.  If a competitor knew they would make 50% more if they hit a submission then you can bet they would be hunting for them.  The UFC has done this with performance based pay, the problem is MMA is very dangerous so going for a submission and failing can cost you quite a few brain cells.  Jiu-Jitsu does not carry the same risks so hopefully competitors will be compelled to pursue a finish in order to fatten their wallets.
Brian McLaughlin is a Brazilian Jiu-Jitsu black belt and head instructor at Precision Mixed Martial Arts in LaGrange, NY a Hudson Valley Martial Arts School