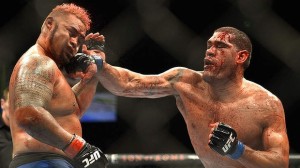 There is nothing quite like a great fight.  Some fights exemplify technical prowess.  Techniques are disguised with feints, fakes and misdirection like a magician's prestige.  Attacks are sequenced in endless combinations and flow before the audience in a series of chain reactions.  Fighters solve physical riddles and challenge their adversary's reflexes and intuitions.
Other fights are chaotic displays of unbridled fury where caution is thrown to the wind.  Courage accented with insanity creates a wild parade of speed, power and grit.  Fighters become less like artists and more like daredevils as they stand in the line of fire.
Finally, there are fights that devolve into wars of attrition, crucibles of endurance which are no longer battles of techniques, but wars of wills.  These fights become spectacles of character where the only thing keeping a combatant going is his unwavering devotion to the pursuit of victory.
Every once in a great while a fight is all of these things simultaneously, a synergistic combination of mind, body and spirit.  Great fighters challenge our concept of reality; they display unimaginable feats and in the process force us to reconsider what is possible for human beings. 
Mark Hunt and Antonio Silva put on a great fight and if you were not privileged enough to witness it, no amount of hyperbole will do it justice.