CFFC 24 – the most fun you can have with your clothes on. 
My Atlantic City adventure started with Corey Bleaken taking the cage against tough as nails Paul Felder.  The fight was high on drama from the start, with Corey getting clipped with a hard cross and waking up to find himself in a fully sunk rear naked choke.  In this instance quitting was the most readily available option, but even half unconscious and unable to breath Corey escaped, seemingly by the force of pure will.  He not only survived, but was able to get on top and mount some offense, shattering Felder's nose in the process.  Down  one round Corey fought with a heightened sense of urgency and took round two on the strength of his top control.
When the bell sounded for the start of round 3 the crowd was on its feet.  Both fighters clearly exhausted, bloody and determined put on an incredible display of heart and courage.  Corey found himself on the bottom, but flawlessly executed multiple Heisaman escapes (click here to learn) to reverse and get back to his feet.  Ultimately the pressure from Felder was too much and he took home the victory.  Classy in victory, Felder was very respectful towards everyone at AMA Fight Club and reminded the crowd of how tough Bleaken was for the entire 15 minutes.
On the one hand the loss is
a set back – an unwanted bump in the road.  However, for each young fighter coming up the ranks there are certain unanswered questions.  Will he fold under pressure?  Can he overcome adversity?  Will his cardio hold up for 15 minutes?  Can he recover from being dropped?  Will he look for a way out when defeat is near?  Corey has faced these crucibles and shown he possesses an iron will and indomitable fighting spirit.  Progress is not always measured by tallies of wins and losses. Through the blood and sweat of this fight Corey may not have found victory, but in some ways he discovered something far more valuable.  May God help the next poor soul who shares the cage with Mr. Bleaken.
Following Corey's battle all eyes were on Sean Santella.  "Shorty" was looking to extend his win streak to five straight.  As fight time approaches Shorty slowly goes through a transformation.  He begins as an affable teammate and slowly transcends into a laser focused assassin.  Once he completes his warmup and reviews his game plan his smile is replaced with a scowl.  "It's MY TIME!" he repeats louder each time as the fight approaches.  Positive affirmations mixed with relentless intensity foreshadow the night's performance.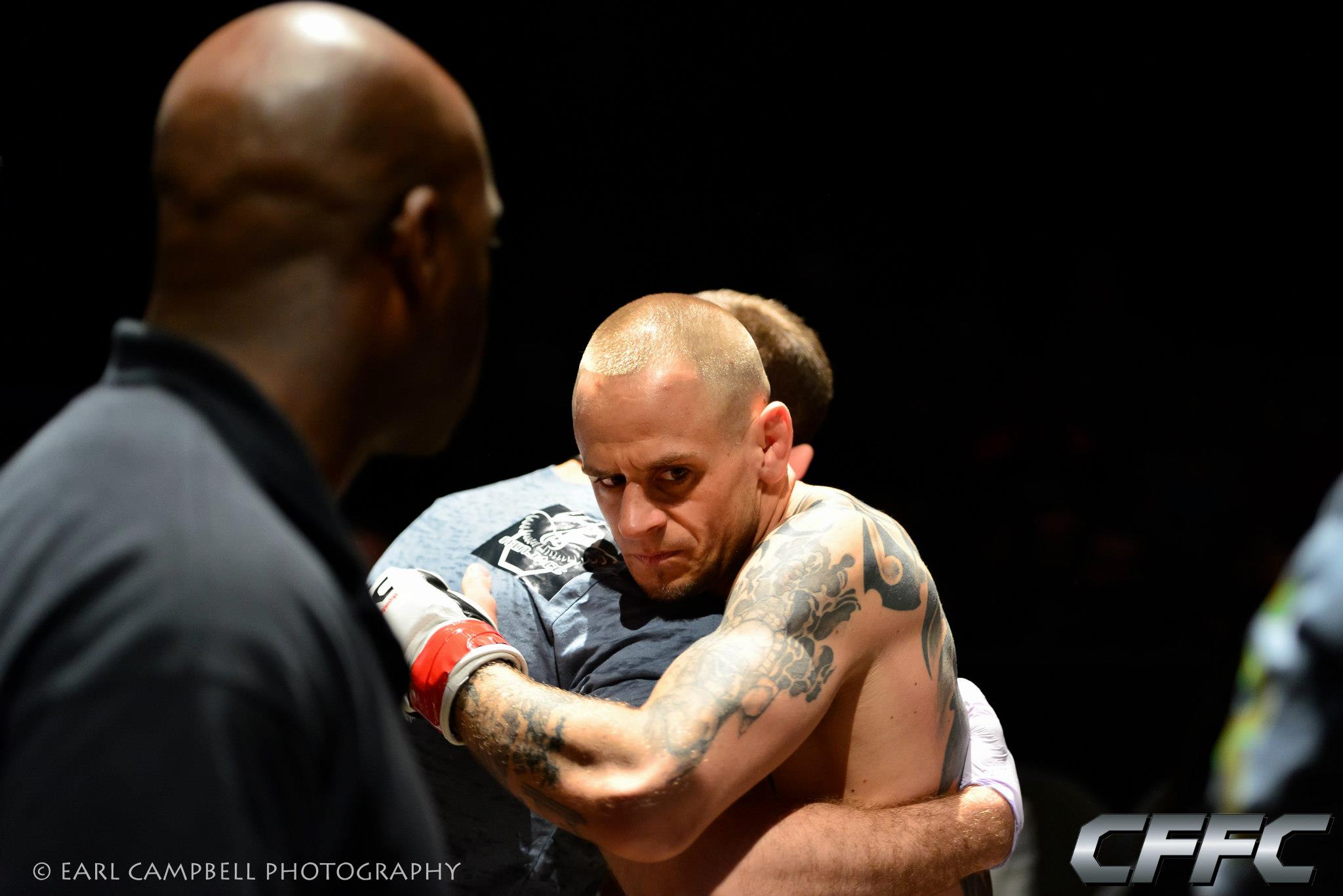 Mike Constantino turns to me and predicts a Shorty victory via rear naked choke.  I shake my head and tell him "Triangle…round 1″.  Mike likes my premonition.
The fight starts with a long feeling out process, Shorty in the unique position of being the taller man.  As expected Morgan shoots in and Shorty immediately begins his submission assault.  A failed guillotine attempt brings the fight to full guard.  Shorty traps the arm and slaps on his patented "Giant Cirlce" triangle.  Morgan fights valiantly and attempts to slam his way out (unless you're Quinton Jackson you should always posture out of a triangle rather than slamming imo), but ultimately passes out after refusing to submit.  
The only thing more impressive than Shorty's Jiu-jitsu transitions was his post fight break dancing routine.  For his efforts Shorty earned a nice "Submission of the Night Bonus" (Corey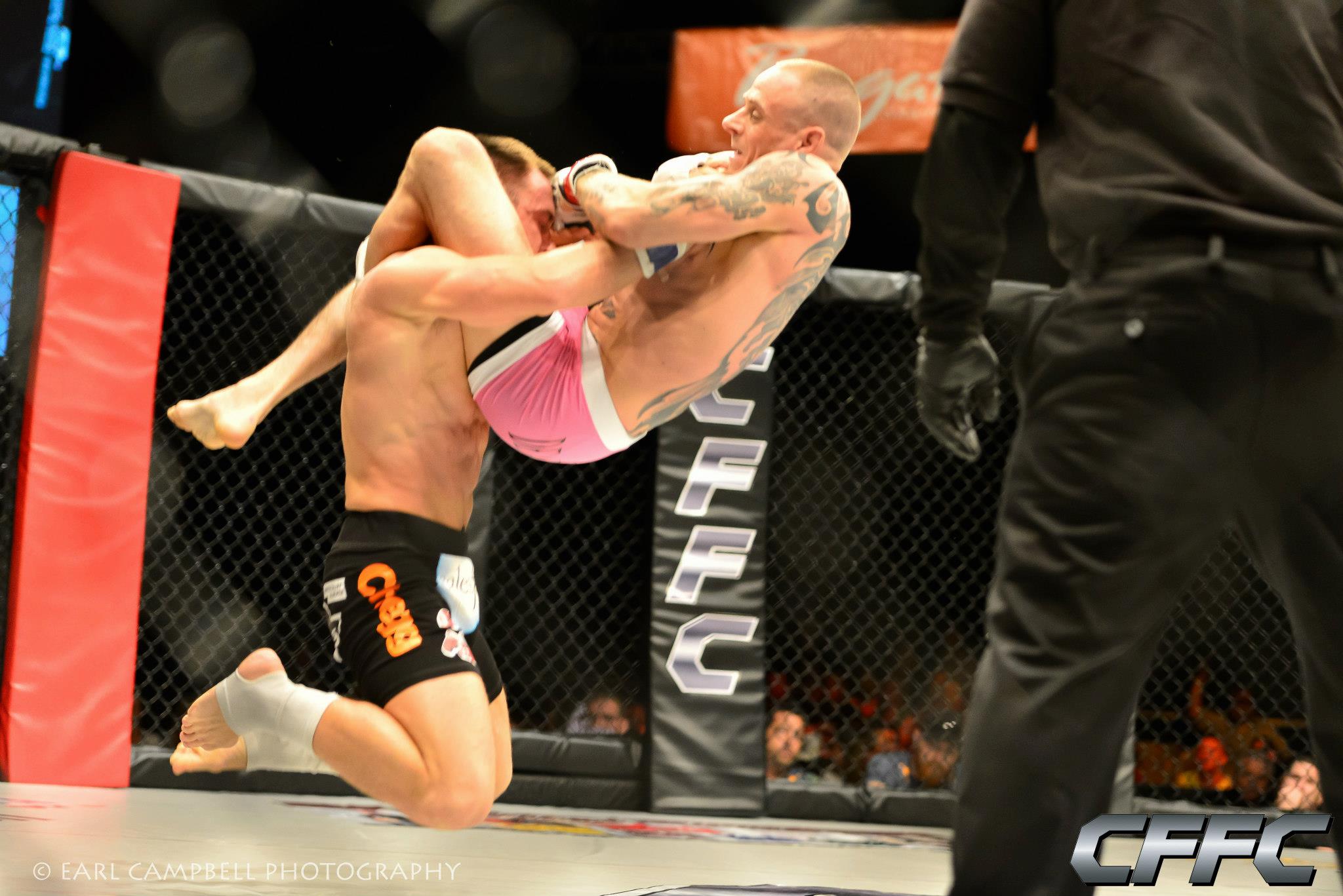 was awarded Fight of the Night).  This was without question the best fight camp and performance of Shorty's MMA career.  Winning 9 out of his last 10 fights, Shorty has proven he is ready to step up to the big leagues.  With victories over past and current Strikeforce and UFC veterans Shorty isn't simply ready to compete in the best organization, he could challenge for the title.          
The other star performance came from my training partner and friend Joe Pinto.  Joe showed age is just a number as he went out and dominated his 20 year old adversary en route to a TKO victory.  Joe used some patented AMA ground and pound tricks to eventually progress to back mount, flatten his opponent out and rain down blows until his hand was raised.  I watched this fight from the stands and apologize for the hearing loss I inflicted on those around me. 
Live in Poughkeepsie and want to be the next MMA Champion?
Check out Precision MMA in LaGrange, NY the Hudson Valley's top Poughkeepsie MMA gym call 845-392-8495 or visit http://www.poughkeepsiemixedmartialarts.com